Se avete sempre voluto sapere come funzionava il copper chunky…
www.pixiapps.com
Gloom, a very good Doom clone, was commercially released in 1996 by Black Magic. Being a clone doesn't take away the quality of the game, and to prove that, Gloom was acclaimed as the 18th be…
Convertire da bitplanes a "chunky" o viceversa e' uguale ad effettuare una trasposizione (sui bit). http://www.lysator.liu.se/~mikaelk/doc/c2ptut/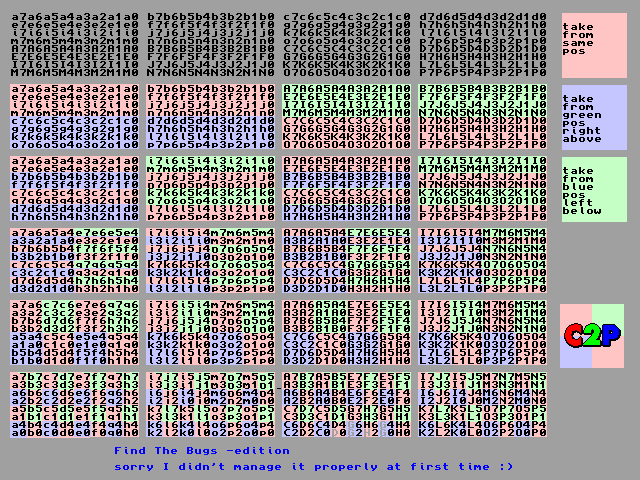 www.lysator.liu.se
In this step-by-step-description, the actual _exchanging_ of bits/blocks happened first on the smallest levels, and then on larger and larger levels (1×1, 2×2, 4×4) but in fact this works just as well if it's done in the other order.
Qui una spiegazione semplice http://www.pouet.net/topic.php?which=33&page=1
www.pouet.net
pouët.net – your online demoscene resource
Codice di Kalms (che oggi credo insegna il c2p a DICE)… https://github.com/Kalmalyzer/kalms-c2p http://ada.untergrund.net/?p=boardthread&id=43
github.com
kalms-c2p – Kalms C2P routine collection
ma servono ancora gli algoritmi C2P? ancora si usano i bitplane da qualche parte?
No, i bitplane non hanno più senso
In hardware, per roba grafica, no. In generale, come algoritmo, si ha la sua utilita', ma non e' una cosa molto usuale, di certo. Piu' usuale oggi ragionare di interleaving a livello di byte o piu', non di bit.
e per cosa si usa?
Ad esempio, compressione
capito. mi cercherò qualcosa magari!
in realtà ho dato uno sguardo ai file e boh, forse questo non è Gloom ma Gloom Deluxe, il primo Gloom usava appunto il copper chunky (http://www.amiga.org/forums/showthread.php?t=24265) coi suoi pixelloni, questo invece (per quel poco che ne posso capire) usa un "normale" chunky2planar come, appunto, Gloom Deluxe
www.amiga.org
What is a Copper Chunky2Planar? Amiga OS — Development