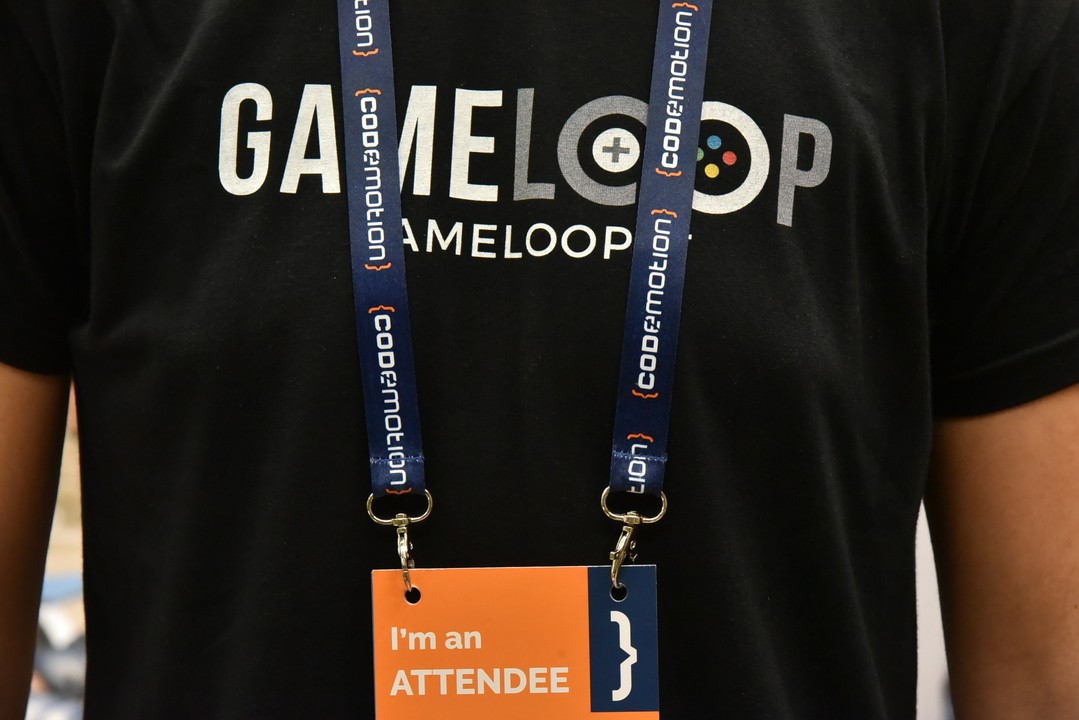 L'edizione 2017 del Codemotion Rome si è appena conclusa. Noi di GameLoop siamo andati all'evento ed abbiamo intervistato la maggior parte degli sviluppatori indie presenti nelle aree dedicate al gamedev dell'evento. Purtroppo è stato impossibile parlare con tutti dato lo spropositato numero di attendees interessati ai progetti.
Ecco una sintesi fotografica dei team che abbiamo avuto il piacere di incontrare: (tutto ciò che poteva essere ordinato è stato ordinato in ordine alfabetico)
Studio: Bad Jokes Studio (@badjokestudio)
Progetto: Cat Guns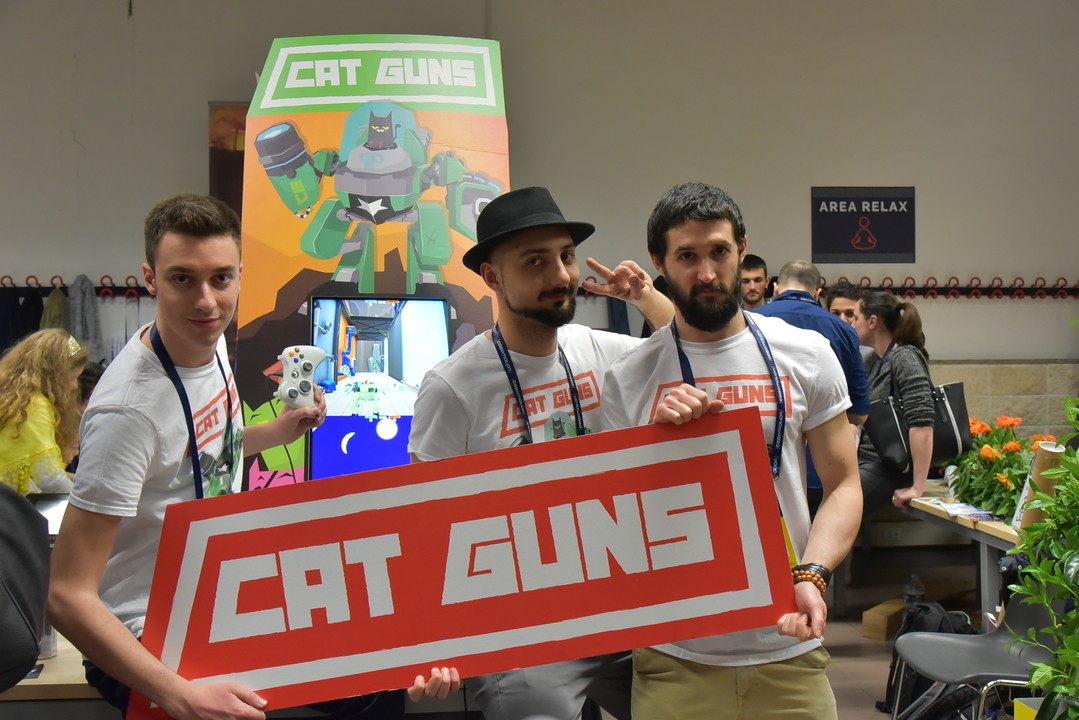 Sparatutto multiplayer con mech pilotati da adorabili gattini che basa molto gameplay sulla personalizzazione del mech.
Credits:
Pietro Brunelli – Art Direction/Animazioni
Francesco Marrazza – Business Developer
Alessandro Menegotti – Game Designer/Sviluppatore
Francesco Venturo – 3D artist
Studio: BitNine Studio
Progetto: Terrorbane (@Terrorbane_BNS)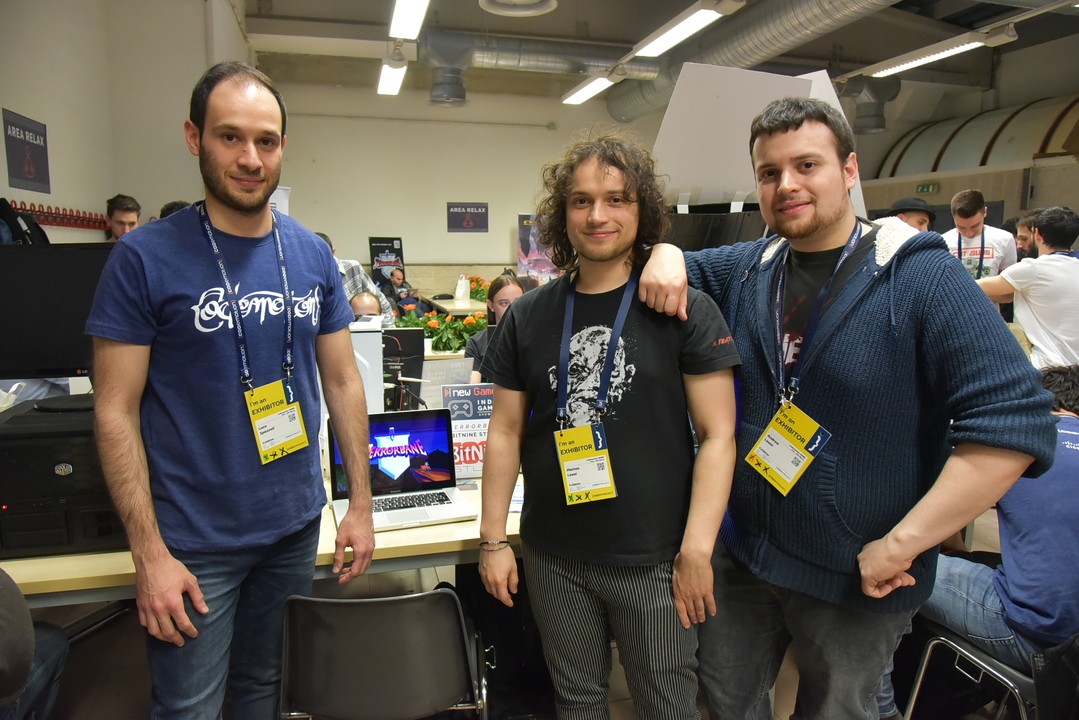 JRPG-like che punta a rompere la quarta parete grazie ad un umorismo pieno di citazioni e riferimenti.
Credits:
Luca Spazzoli – Sviluppatore
Matteo Leoni – Art/Musiche
Andrea Leoni – Testi
Studio: Caracal Games
Progetto: Downward (@downwardgame)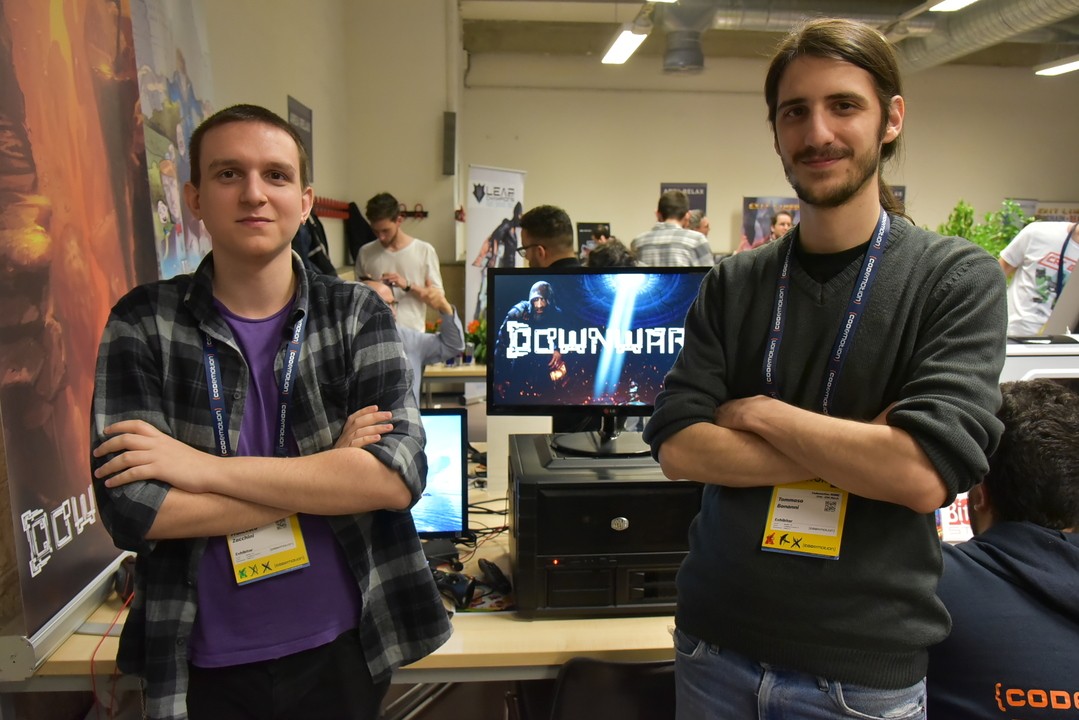 Il vincitore del prestigioso premio "Best New Game" del Codemotion Rome 2017 è questo open-world parkour/adventure game con ambientazioni mozzafiato sia nel concept che nella realizzazione.
Credits:
Alex Angelini – Amministrazione/Testi e Lore
Tommaso Bonanni – 3D artist/Shading/Gameplay Designer
Francesco Zacchini – Sviluppatore
Studio: GimmeFries Games (@GimmeFriesGames)
Progetto: Throw!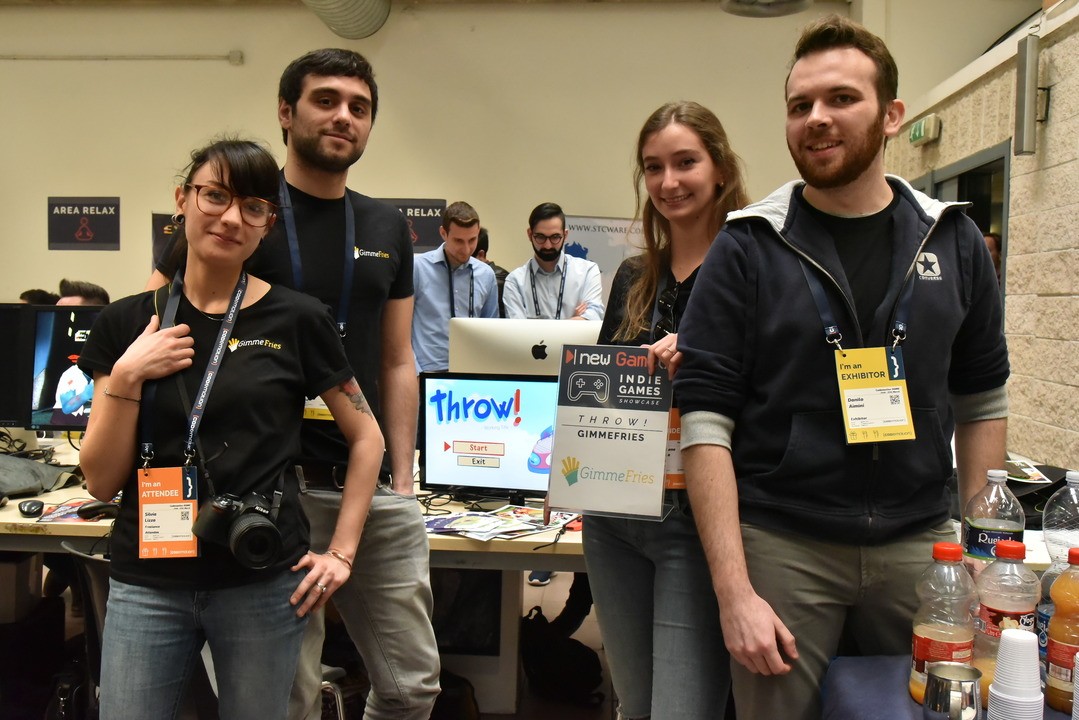 Freschissimo WIP con characters ed environments adorabili che punta al rilascio per Nintendo Switch
Credits:
Danilo Aimini – Sviluppatore
Valerio Bellia – Character 3D Modeler
Massimo Di Leo – Concept Artist
Maddalena La Rocca – Animatrice e Rigger 3D
Silvia Lizza – 3D Environments
Studio: IperUrania Arts (@IperuraniaArts)
Progetto: Beyond the Sky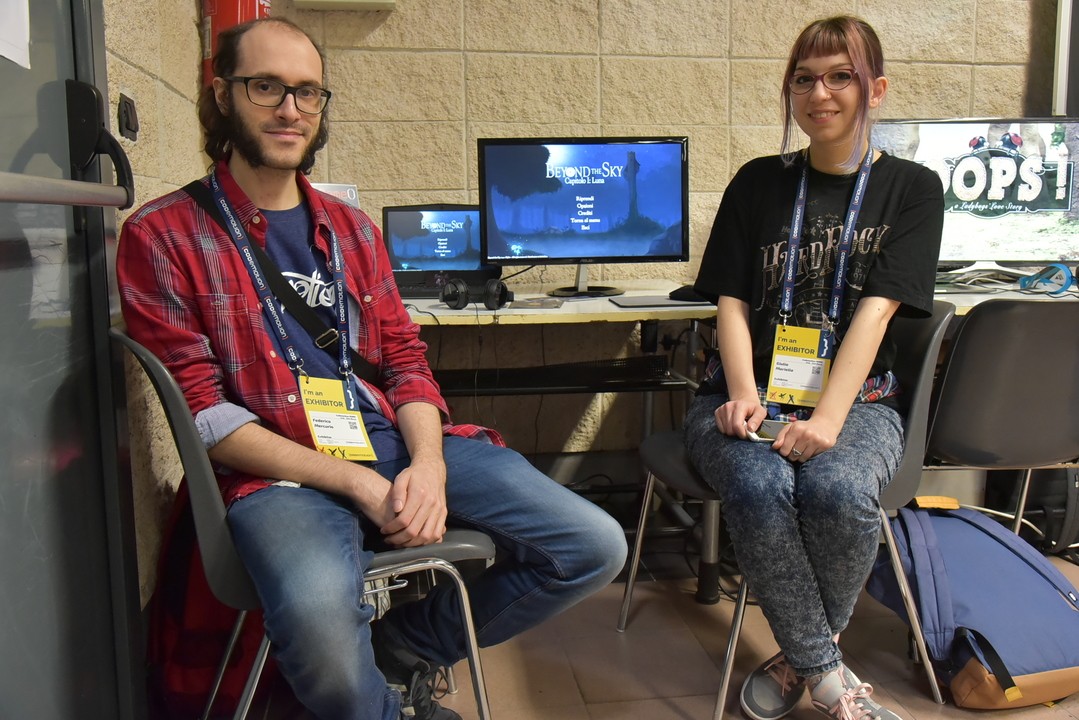 Avventura grafica con citazioni della mitologia classica sul tema della dicotomia vita e morte.
Credits:
Giulia Mariella – Art
Federico Mercurio – Sviluppatore/Testi/Gameplay Design
Studio: LEAF games&software (@Leaf_GS)
Progetto: Leap of Champions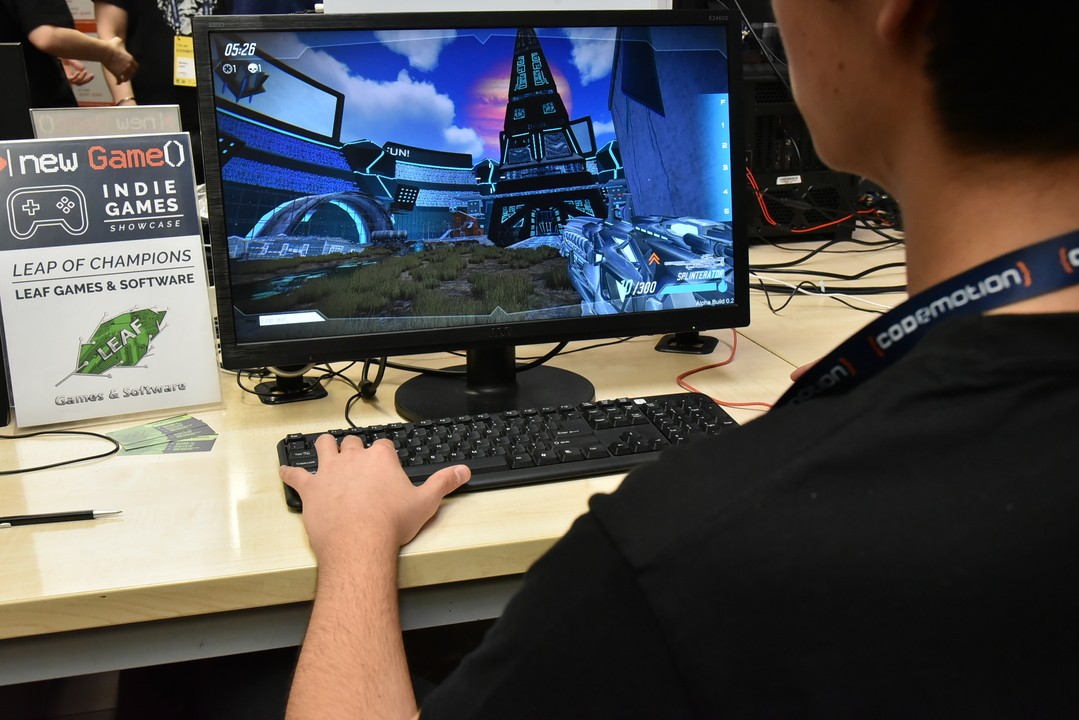 FPS arena in pre-alpha con mecchaniche king of the hill innovative.
Credits:
Nicola Cairo – CEO/Founder
Michele Calandirello – CEO/Founder
Giulio Davì – Game Designer
Vincenzo Dimino – 3D Art
Camilla Maccagnano – 2D Artist/GUI
Riccardo Runci – Sviluppatore
Studio: Morbidware (@morbidware)
Progetto: RayBibbia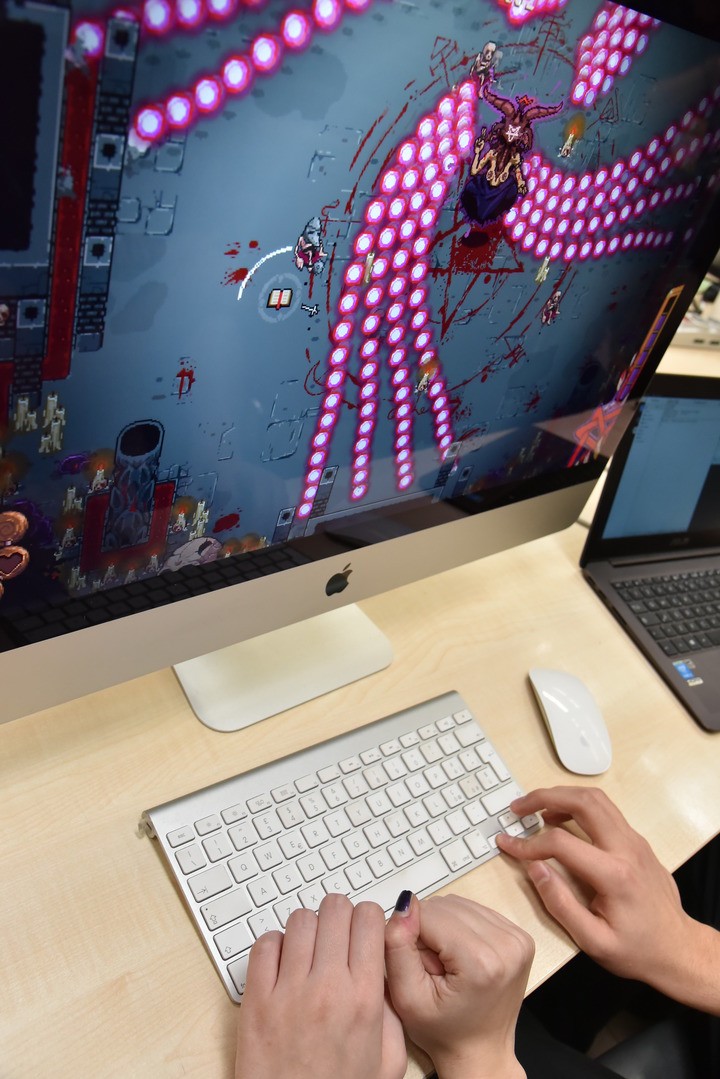 Bullet hell di ispirazione classica con una forte componente Typing ambientato in una Roma distopica buia e sanguinosa.
Credits:
Matteo Corradini – Testi
Giuseppe Longo – 2D Pixel Artist
Diego Sacchetti – Concepts Design e Sviluppo
Studio: Neko8Games (Sito web)
Progetto: OOPS!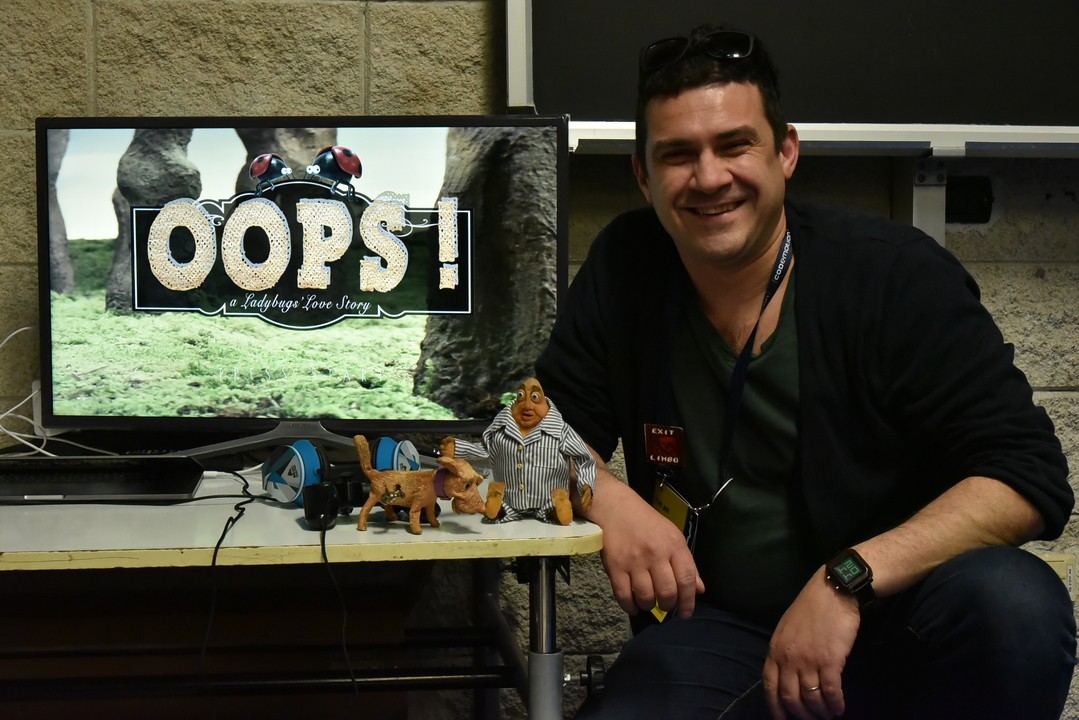 Un simpatico puzzle platform completamente animato con animazioni passo-uno.
Credits:
Emanuele Barberello – Scenografia
Mirko Di Lorenzo – Regista
Emilio Dimitri – Musiche
Michele Facecchia – CEO
Fabio Fernetti – Modellatore marionette
Giuseppe Valentino – Luci/Fotografia
Studio: Virtual Craft Entertainment(@VirtualCraftEnt) in collaborazione con Twisted Mirror Games
Progetto: Exit Limbo (Sito Web)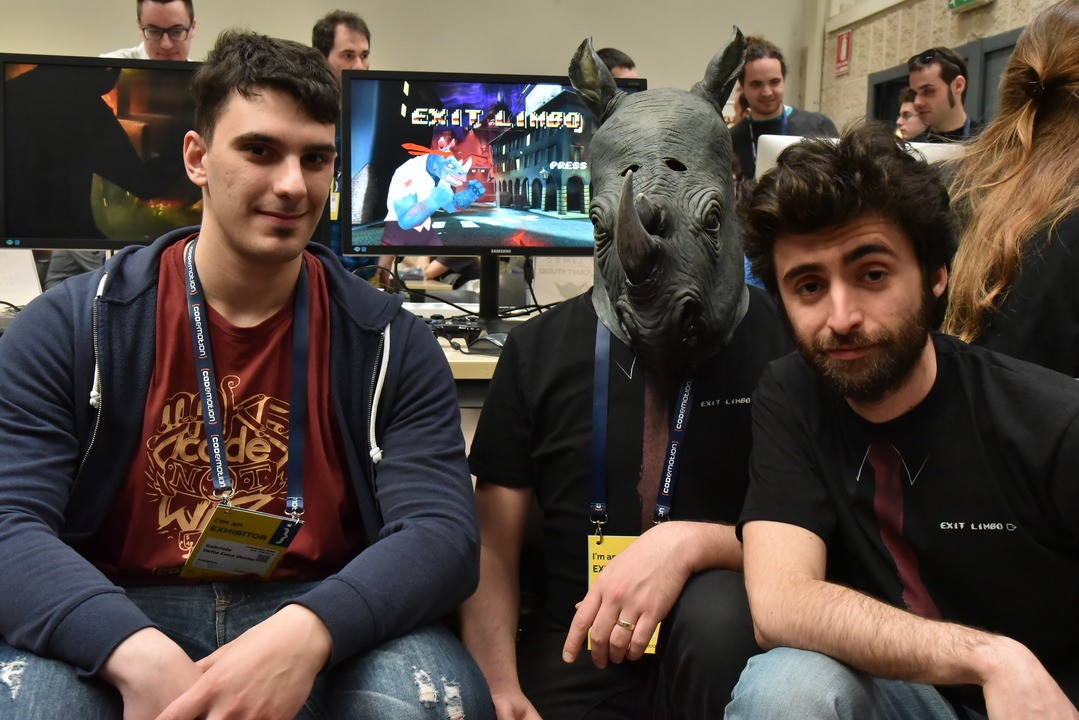 Beat 'em up con characters 2d immersi in ambienti side scrolling 3D dove il protagonista è l'unico rinoceronte antropomorfo in un mondo di umani.
Credits:
Giovanni Cantele – Art Director/Texturing (Virtual Craft Entertainment)
Eugenio Gatto – Project Manager (Virtual Craft Entertainment)
Filippo Mussini – 3D Artist (Virtual Craft Entertainment)
Daniel Nicopolis – Social Media Manager (Virtual Craft Entertainment)
Gabriele Della Casa Venturelli – Sviluppatore (Twisted Mirror Games)
Luca Gatti – Sviluppatore (Twisted Mirror Games)
Studio: Yonder (@from_Yonder)
Progetti: Red Rope (Don't Fall Behind) e Circle of Sumo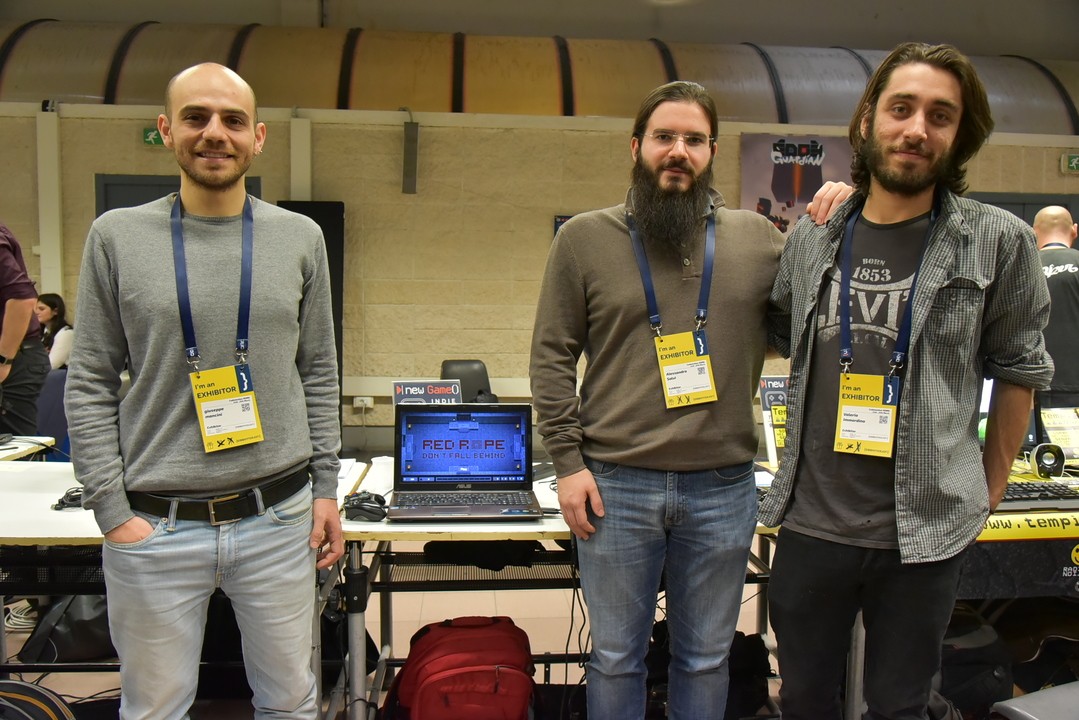 Yonder presenta due progetti: Red Rope – Don't Fall Behind un puzzle game fortemente cooperativo in pixel art e Circle of Sumo un gioco arcade per 4 giocatori nato per la Global Game Jam 2017.
Credits:
Valerio Immordino – Illustratore
Giuseppe Mancini – Lead Designer/Level design
Giuseppe Marano – Sviluppatore/Compositore
Alessandro Salvi – Lead Dev/Designer
Francesca Zacchia – 2D Pixel Artist
tanta bella gente, tanta bella robba! ottimo lavoro!
Respect!
Peccato non aver potuto fare un giro 🙂