Salve a tutti, mi scuso per la lungezza del post ma porto una serie di notizie da parte di Codemotion che spero siano di vostro interesse.
E' aperta la nostra call for projects riservata a progetti Gamedev e VR per Roma e Amsterdam. La call e' internazionale, per cui parteciperanno sviluppatori di tutta Europa. Il progetto Gamedev proclamato Best of the Show partecipera' di diritto, senza passare dalle selezioni, alla prestigiosa Casual Connect / Indie Prize, con la possibilita' di scegliere tra Belgrado e Hong Kong.
Qui la form per aderire alla call:
https://rome2018.codemotionworld.com/news/call-for-showcase/
Quest'anno a Codemotion Roma, avremmo come ospite speciale il grande "Yak" Jeff Minter accompaganto dal suo fido collaboratore "Giles" Ivan Zozin. Jeff terra' un keynote sulla storia del suo studio Llamasoft che e' ancora in piedi da quasi 40 anni e che sta sfornando Tempest 4k su n-mila piattaforme. Inoltre, i due, terranno un ulteriore speech sull'eveoluzione del loro motore proprietario raccontando trucchetti ed aneddoti.
Per chi partecipera' allo showcase ci sara' la possibilita' di far vedere il proprio gioco a Jeff e a Giles…Lucky sheepieee
Nella track di talk dedicati a gamedev ci saranno tra gli altri anche i nostri Ciro Continisio (Unity3D), Mattia Traverso, e un bel talk sulle avventure grafiche di Christopher Sacchi.
Ecco il link diretto alla track:
https://rome2018.codemotionworld.com/conference/#topic5
Inoltre vi segnalo i link ai talk della scorsa edizione di Milano: video: http://bit.ly/2HEnsxY
slide: http://bit.ly/2sMQdVG
E per chiudere potete usare questo codice sconto
http://bit.ly/2t5vdJS
riservato alla community di GameLoop per l'acquisto del biglietto di Codemotion Roma.
Spero accorriate numerosi.
E grazie per la cortese ospitalita'.
D.A.J.E.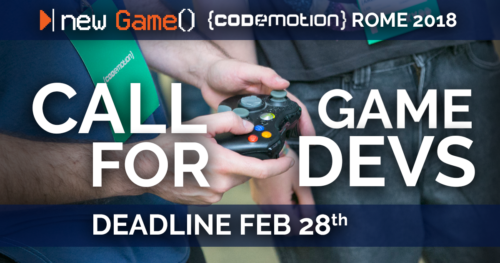 rome2018.codemotionworld.com
Are you involved in a VR/Gamedev Project? Apply now and get the chance to have a free desk at Codemotion Rome 2018! Deadline: February 28th
PS: la deadline della call e' estesa fino al 7 marzo per Roma!!!!